Hace unos días, una MVP llamada Julie Turner publicaba el artículo What is a "Dev Tenant" and why would you want one? en la Tech Community de Microsoft.
Me ha parecido muy interesante la idea de poder disponer de una subscripción para desarrolladores de Microsoft 365 E5 para probar esta plataforma y aprender poco a poco sin tener que estar pendiente de una fecha de caducidad del tenant.
Nota: Es necesario utilizar el tenant para que se vaya renovando cada 90 días.
Las características principales de esta suscripción son las siguientes:
Incluye 25 licencias con fines de desarrollo
Acceso a los workloads y capacidades principales de Microsoft 365:

Todas las aplicaciones Office 365 (incluyendo SharePoint, OneDrive, Outlook/Exchange, Teams, Planner, Word, Excel, PowerPoint y muchas más)
Office 365 Advanced Threat Protection
Analíticas avanzadas con Power BI
Enterprise Mobility + Security (EMS) para el cumplimiento y la protección de la información
Azure Active Directory para crear soluciones avanzadas de gestión de identidades y accesos
Nota: No incluye Windows 10, pero se pueden utilizar versiones de evaluación para probar cualquier escenario.
Los créditos complimentary de Azure se pueden utilizar en este entorno de desarrollo para poder simular cualquier entorno de producción real.
Además, es posible cargar datos de ejemplo (usuarios, eventos de correo, sites de SharePoint, etc.) desde el Dashboard - Microsoft 365 Dev Center para facilitar las pruebas.
Unirse al programa
Los pasos para unirse al programa y crear este tenant para practicar y aprender son los siguientes:
1) Acceder a la página principal del Developer Program - Microsoft 365
2) Pulsar el botón Join now
3) Autenticarse mediante una cuenta Microsoft
4) Rellenar el formulario y pulsar el botón Next:
Country/Region: Spain
Company: <>
Language preference: English
[x] I accept the terms and conditions ...
[x] I would like information, tips, ...
Primary focus as developer?
  ( ) Applications to be sold in market
  ( ) Custom solutions for my own customers
  (*) Applications for internal use at my company
  ( ) Personal projects
Areas of Microsoft 365 development?
  [ ] SharePoint Framework (SPFx)
  [x] Microsoft Graph
  [x] Microsoft Teams
  [ ] Office Add-ins
  [ ] Outlook
  [ ] Microsoft identity platform
  [x] Power Platform

5) Aceptar el mensaje de bienvenida:
Welcome to the Microsoft 365 Developer Program!
If you don't have a subscription already, we recommend that you begin your membership by setting up your new Microsoft 365 developer subscription.

6) Pulsar el botón Set up E5 subscription y rellenar el formulario:
Country/Region: Spain
Create username: <>
Create domain: <>
Password: <>
Country code: Spain (+34)
Phone number: <>

7) Introducir el código que llegará por SMS y esperar unos minutos a que el tenant se aprovisione
Una vez creado es necesario asignarse una licencia para acceder a todas las funcionalidades. En Microsoft Learn for Microsoft 365 explica como hacerlo aunque es bastante sencillo.
Nota: Uno de los primeros pasos para poder explorar y aprender sería agregar el sample data pack de usuarios. Se dispone así de 16 usuarios ficticios con licencias, buzones, nombres y fotos de cada uno, etc. para simular un entorno real.
A partir de aquí se puede gestionar las características del programa desde el Microsoft 365 Developer Program Dashboard.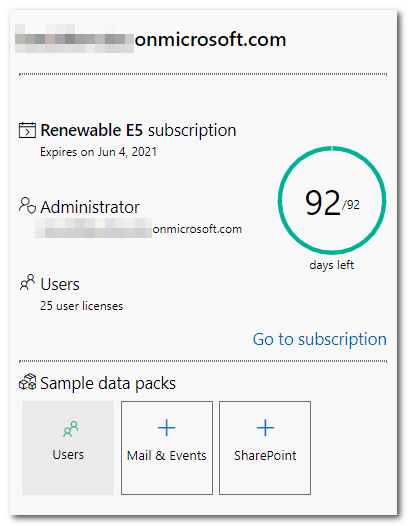 Ahora sólo queda "jugar" para aprender y quizas obtener alguna certificación de Microsoft como por ejemplo:
Referencias