Una de las formas más sencillas para tener un laboratorio de Microsoft Endpoint Configuration Manager (MEMCM) es utilizar alguno de los Lab Kit que proporciona Microsoft.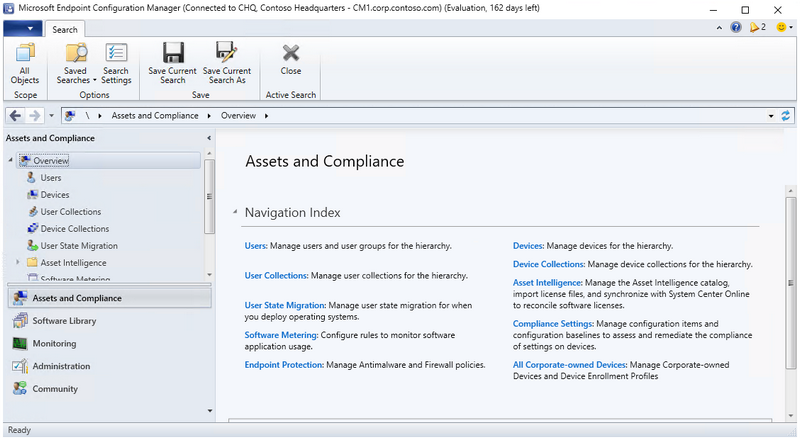 Estos Lab Kit son paquetes compuestos por guías explicativas y máquinas virtuales (en formato Hyper-V) que simulan un entorno real con un controlador de dominio, un servidor ConfigMgr, etc.
A día de hoy existen 3 kits (en realidad son 2 como veremos más adelante) que se pueden descargar desde las siguientes páginas:
Windows 10 and Office 365 Deployment Lab Kit
El primer Lab Kit permite desplegar una serie de máquinas virtuales que simulan un entorno real (Directorio Activo, Configuration Manager, clientes Windows 10, etc.).
Incluye unas guías en formato *.docx que explican detalladamente cómo se puede utilizar esta plataforma para desplegar y gestionar Windows 10 y Microsoft 365 Apps (el antiguo Office 365) en la empresa.
Los enlaces para descargar directamente este kit sin tener que registrarnos son los siguientes:
A día de hoy, este laboratorio está formado por:
Windows 10 Enterprise, Version 21H1
Windows 7 Enterprise Service Pack 1, Version 6.1
Microsoft Endpoint Configuration Manager 2103 (Current Branch)
Windows Assessment and Deployment Kit for Windows 10, Version 2004
Microsoft Deployment Toolkit
Microsoft BitLocker Administration and Monitoring 2.5 SP1
Windows Server 2019
Microsoft SQL Server 2017
Todo el laboratorio está diseñado para facilitar su uso con alguna de estas licencias:
Microsoft 365 E5
Office 365 Enterprise E5
Enterprise Mobility + Security
Las guías paso a paso cubren las herramientas indicados en las soluciones Microsoft 365 y diversos escenarios utilizando Microsoft Endpoint Configuration Manager, Windows Analytics, Office Customization Tool, OneDrive, Windows Autopilot, etc.
Windows 11 and Office 365 Deployment Lab Kit
Este kit es muy similar al anterior pero los clientes son Windows 11 y los servidores son Windows Server 2022.
Los enlaces para descargar directamente este kit sin tener que registrarnos son los siguientes:
Microsoft Endpoint Manager Evaluation Lab Kit
Este Lab Kit está pensado como un complemento del laboratorio de Windows 10 explicado anteriormente.
Por este motivo, incluye únicamente unas guías específicas que explican la integración con Microsoft Intune utilizando la consola unificada en Microsoft Endpoint Manager (MEM).
El enlace para descargar directamente estas guías sin tener que registrarnos es el siguiente:
Requerimientos
Todas las máquinas cliente y servidor de los entornos incluidos en los Lab Kit son ediciones de 64-bit: Windows 10/11, Windows Server 2019/2022.
Para poder ejecutar este Lab Kit, es necesario disponer de un host Hyper-V y un usuario con los permisos necesarios para crear y ejecutar máquinas virtuales.
Se recomienda disponer de 300GB de espacio libre en el disco y que éste sea lo más rápido posible (SSD o NVMe). También se recomienda 32GB de memoria RAM como mínimo y una CPU de gama alta para obtener el máximo de rendimiento.
Instalación
Cualquiera de los dos laboratorios se instala de la misma manera:
Descargar el fichero *.zip
Extraer su contenido
Ejecutar setup.exe
Seguir las instrucciones ;-)
Este programa de instalación comprobará que el entorno cumple los requisitos mínimos para utilizar las máquinas virtuales (por ejemplo, que existe un switch que proporcione acceso a Internet), descomprimirá el fichero *.zpaq y creará las máquinas virtuales a partir de los discos ServerParent.vhdx y WindowsParent.vhdx.
Una vez importadas, algunas máquinas se pondrán en marcha para proporcionar la infraestructura (DC1, GW1 y CM1) y otras se pondrán en marcha para aprovisionarse (CLIENT1, CLIENT2, etc.).
Durante este proceso notaremos que el uso de RAM y CPU del host Hyper-V se incrementa notablemente por lo que habrá que dejarlo un rato tranquilo (entre 30-60 minutos) hasta que se acaben de aprovisionar todas las máquinas cliente y se apaguen correctamente.
Al iniciar sesión en las máquinas veremos que son versiones de evaluación válidas durante determinados días en función de la fecha de descarga del kit.
A partir de aquí, únicamente queda realizar los laboratorios paso a paso siguiendo las guías de cada Lab Kit ;-)
Referencias